We make our own maple syrup. Made in Minnesota



We offer grade A syrup by the pint, made this spring at our home in Minnesota. It is one of the most unrefined sugars that you can get. Made with love and a lot of hard work. Visit our Maple Syrup photo gallery to see the process.
The best deal on shipping can be achieved by buying

more than one

Pouring the hot syrup out of the evaporator.

pint and having it shipped priority USPS

We only ship USPS from our remote

location here in Minnesota.
Our syrup is Grade A Dark and an extremly clear amber in color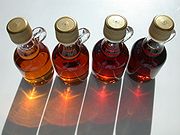 WE ARE A FAMILY-OWNED BUSINESS THAT IS COMMITTED TO PROVIDING YOU AN OUTSTANDING SHOPPING EXPERIENCE.